---
---
Type: 2 Cases of 2017 Bowman Chrome HTA - 72 Total Autos
Break Date: Monday 11/6/17 at 8:30PM Eastern
Link to live break: https://www.youtube.com/channel/UCrJTdfbldKrkTVe94o6huNg
Format: Pick your team.
Teams are determined by the team/uniform represented by the player on card. So if for example Yoan Moncada is wearing a White Sox jersey, that's a White Sox card. If Boston, then Boston.
We'll be opening (2) sealed cases of 2017 Bowman Chrome HTA. EACH case contains 12 sealed boxes, each with 3 autographs. That's all that's in these cases! No base cards, no chrome, just 3 autographs per box, or 72 autographs in total in the 2 cases. You'll get all the cards from your teams. Simple as that. 
Here are the autographs available in 2017 Bowman Chrome (source: beckett.com):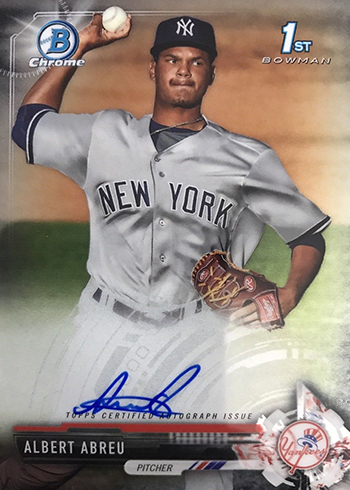 CPA-AA Albert Abreu
CPA-ACA Andrew Calica
CPA-AH Austin Hays
CPA-AI Andy Ibanez
CPA-AK Anthony Kay
CPA-AM Adrian Morejon
CPA-AR Alfredo Rodriguez
CPA-AT Anderson Tejeda
CPA-ATI Alberto Tirado
CPA-BB Bryson Brigman
CPA-BBI Braden Bishop
CPA-BM Brian Mundell
CPA-CF Clint Frazier
CPA-CP Chris Paddack
CPA-CS Cole Stobbe
CPA-CWH Chih-Wei Hu
CPA-DF David Fletcher
CPA-DG Daniel Gossett
CPA-DL Dawel Lugo
CPA-DLA Dinelson Lamet
CPA-FJ Felix Jorge
CPA-FM Francisco Mejia
CPA-GH Gage Hinsz
CPA-GJ Griffin Jax
CPA-GL Grayson Long
CPA-HQ Heath Quinn
CPA-IW Isaiah White
CPA-JAZ Jose Azocar
CPA-JC Jazz Chisholm
CPA-JD Jon Duplantier
CPA-JF Jameson Fisher
CPA-JO Jorge Ona
CPA-JS Jesus Sanchez
CPA-JSB Josh Sborz
CPA-JT Jose Trevino
CPA-KA Keegan Akin
CPA-KL Khalil Lee
CPA-LA Luis Arraez
CPA-LA Lazarito Armenteros
CPA-LAB Luis Alexander Basabe
CPA-LB Lewis Brinson
CPA-LI Logan Ice
CPA-LT Leody Taveras
CPA-MG Miguel Gomez
CPA-MK Michael Kopech
CPA-MK Mitch Keller
CPA-MS Magneuris Sierra
CPA-MSC Max Schrock
CPA-MV Meibrys Viloria
CPA-MW Mitchell White
CPA-NB Nick Banks
CPA-OP Ofelky Peralta
CPA-RH Ryan Howard
CPA-ROH Ryan O'Hearn
CPA-SD Steven Duggar
CPA-SH Starling Heredia
CPA-SS Sixto Sanchez
CPA-TC Trevor Clifton
CPA-TH Torii Hunter Jr.
CPA-TN Tomas Nido
CPA-VG Vladimir Gutierrez
CPA-WJ Wander Javier
CPA-YD Yusniel Diaz
BOWMAN CHROME ROOKIE AUTOGRAPHS CHECKLIST
17 cards.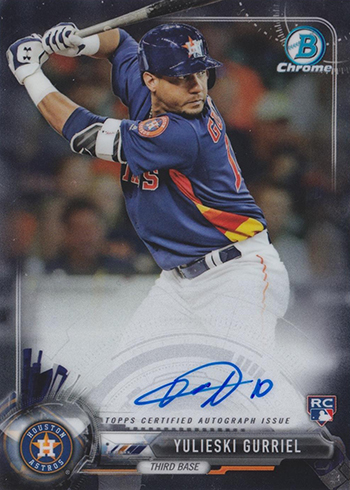 Parallels:
BCAR-AB Alex Bregman
BCAR-AG Amir Garrett
BCAR-BZ Bradley Zimmer
BCAR-CA Christian Arroyo
BCAR-CB Cody Bellinger
BCAR-GC Gavin Cecchini
BCAR-HD Hunter Dozier
BCAR-JDL Jose De Leon
BCAR-JH Jeff Hoffman
BCAR-JHA Josh Hader
BCAR-JT Jake Thompson
BCAR-MM Manny Margot
BCAR-RG Robert Gsellman
BCAR-RL Reynaldo Lopez
BCAR-TM Trey Mancini
BCAR-YG Yulieski Gurriel
BCAR-YM Yoan Moncada
2016 AFL FALL STARS AUTOGRAPHS CHECKLIST
12 cards.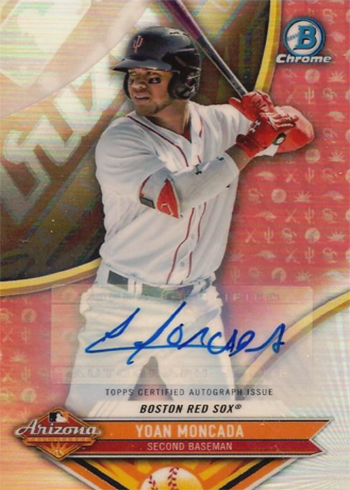 Parallels:
• Superfractors – 1:141,532
AFL-AA Anthony Alford
AFL-AV Alex Verdugo
AFL-CK Carson Kelly
AFL-DL Dawel Lugo
AFL-DS D.J. Stewart
AFL-EJ Eloy Jimenez
AFL-GB Greg Bird
AFL-GT Gleyber Torres
AFL-NG Nick Gordon
AFL-PDJ Paul DeJong
AFL-WC Willie Calhoun
AFL-YM Yoan Moncada
2016 AFL FALL STARS AUTOGRAPH RELICS CHECKLIST
7 cards.
Parallels:
AFLR-BP Brett Phillips
AFLR-DL Dawel Lugo
AFLR-EJ Eloy Jimenez
AFLR-FB Franklin Barreto
AFLR-GT Gleyber Torres
AFLR-RO Ryan O'Hearn
AFLR-WC Willie Calhoun
2016 AFL MVP SHORT PRINT AUTOGRAPHS CHECKLIST
1 card.
1:15,440 hobby packs.
AFLS-WC Willie Calhoun
ALL-AMERICA GAME AUTOGRAPHS CHECKLIST
5 cards.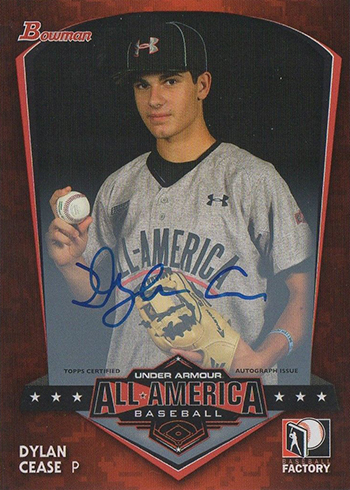 Colton Welker
Michael Kopech
Dylan Cease
A.J. Puk
Zack Puk
BOWMAN SCOUTS UPDATES AUTOGRAPHS CHECKLIST
17 cards.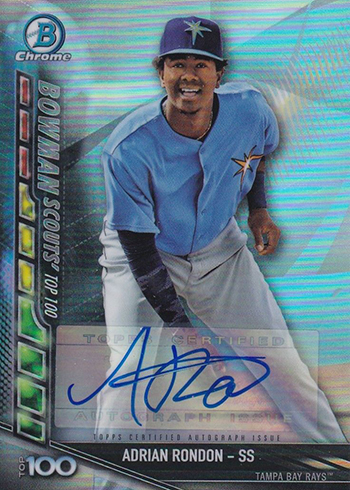 Parallels:
BSU-AH Alec Hansen
BSU-AR Adrian Rondon
BSU-BB Bo Bichette
BSU-CK Carson Kelly
BSU-DC Dylan Cozens
BSU-DD Dane Dunning
BSU-DF Dustin Fowler
BSU-GH Garrett Hampson
BSU-JJ Joe Jimenez
BSU-LE Lucas Erceg
BSU-MM Michael Matuella
BSU-PDJ Paul DeJong
BSU-RA Ronald Acuna
BSU-RR Roniel Raudes
BSU-TS Thomas Szapucki
BSU-TT Taylor Trammell
BSU-WB Walker Buehler
CHROME AUTOGRAPH RELICS CHECKLIST
15 cards.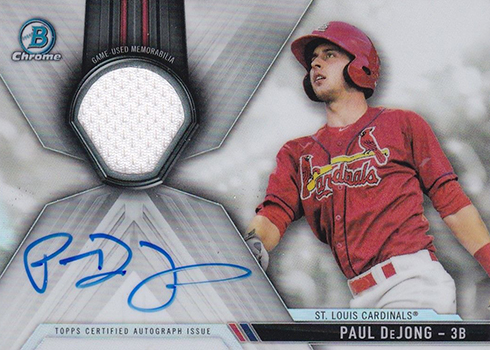 Parallels:
CAR-AR Amed Rosario
CAR-AV Alex Verdugo
CAR-CWH Chih-Wei Hu
CAR-DC Dylan Cozens
CAR-DL Dawel Lugo
CAR-EJ Eloy Jimenez
CAR-FB Franklin Barreto
CAR-FR Francisco Rios
CAR-GB Greg Bird
CAR-GT Gleyber Torres
CAR-JJ Joe Jimenez
CAR-PD Paul DeJong
CAR-SN Sean Newcomb
CAR-TO Tyler O'Neill
CAR-WC Willie Calhoun
CHROME SENSATION AUTOGRAPHS CHECKLIST
21 cards.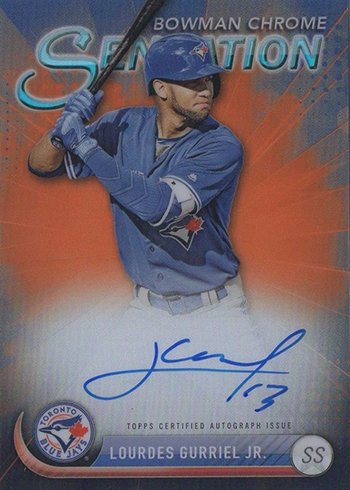 Parallels:
CSA-AA Albert Abreu
CSA-AE Anderson Espinoza
CSA-BR Blake Rutherford
CSA-CR Corey Ray
CSA-GT Gleyber Torres
CSA-IA Ian Anderson
CSA-JG Jason Groome
CSA-JM Jorge Mateo
CSA-KL Kyle Lewis
CSA-KM Kevin Maitan
CSA-LA Lazarito Armenteros
CSA-LG Lourdes Gurriel Jr.
CSA-LT Leody Taveras
CSA-MK Mitch Keller
CSA-MM Mickey Moniak
CSA-NS Nick Senzel
CSA-SH Starling Heredia
CSA-SN Sean Newcomb
CSA-TC Trevor Clifton
CSA-TH Torii Hunter Jr.
CSA-WC Willie Calhoun
PRIME CHROME SIGNATURES
Full list TBA.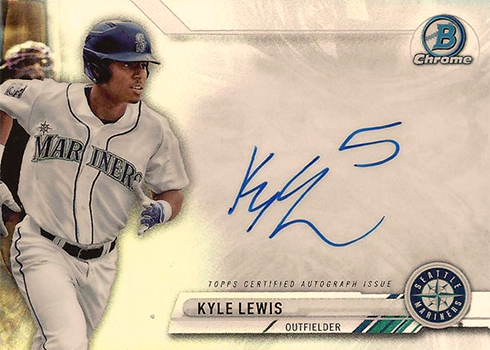 Parallels:
BIA-AE Anderson Espinoza, San Diego Padres
BIA-JG Jason Groome, Boston Red Sox
BIA-KL Kyle Lewis, Seattle Mariners /75
BIA-LT Leodt Taveras, Texas Rangers
BIA-WC Willie Calhoun, Los Angeles Dodgers EXCH
REFRACTORS THAT NEVER WERE AUTOGRAPHS CHECKLIST
4 cards.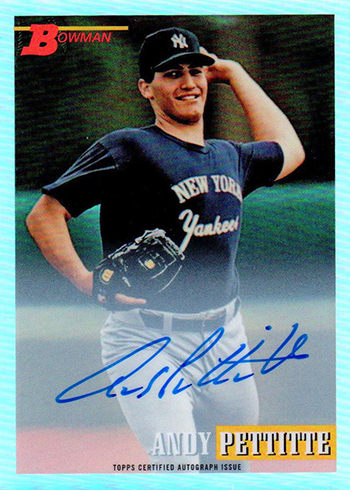 Parallels:
RTNW-AP Andy Pettitte /99
RTNW-BW Bernie Williams
RTNW-DJ Derek Jeter
RTNW-IR Ivan Rodriguez /99
Your item will be shipped BRAND NEW IN BOX, NEVER OPENED, never tampered with.
This is a collector's item, and we appreciate that. We ship all items very carefully and keep the hobbyist in mind.
Bobbles and Gnomes is your trusted source for authentic stadium giveaways (SGAs). We sell MLB, NHL, and NBA bobbleheads and gnomes. If you're looking for bobbles and gnomes that haven't been released yet - preorder them here!. 
Bobblehead / Stadium GIveaway Policies
Shipping: Your item will ship shortly (usually 24-48 hours) after the item is released at the stadium. If the item is already in stock, it will ship within 24-48 hours


Cancellations: In the event that bobblesandgnomes is not able to secure your bobblehead (event cancellation, weather, other unforeseen event), you will receive a 100% refund (including shipping), no questions asked.

---